Marketing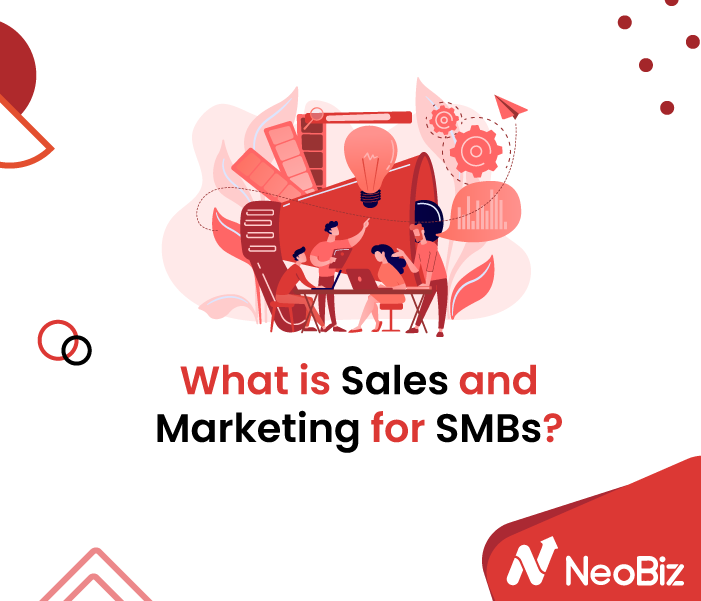 What is Sales and Marketing for SMBs?
Small and Medium Businesses (SMBs) make up the majority of businesses in most countries and are one of the most important players driving economic growth. There's no standard way of identifying SMBs, its definition varies from country to country.
But what is standard, is that SMBs are not the same as large enterprises. Not just in terms of the number of people employed or the annual revenue generated, but in ways in which each one of them approaches their target audience and the resources they have available.
Successfully launching a business is just one step of the thousands yet to come. Making your business known, scaling, and sustaining it, is a journey full of struggles. But with marketing and sales done right, businesses can ensure steady growth.
Why marketing matters:-
SMBs have their unique challenges to face, and the toughest among them is the challenge of finding and keeping a customer. Building a product or delivering a solution is not enough, the bottom line for every business is to earn and grow profits and much of it depends on the marketing strategy they choose to promote their business.
Choosing the right marketing approach is important, but defining what marketing is, is even more important. It is not just about advertising or selling, it's a much broader concept that encompasses all that a company needs to achieve its goals.
How you can plan your sales and marketing:-
Marketing and sales processes involve steps that a business takes to promote itself, attract an audience and sell its products or services to them to advance growth. The motive behind these processes is creating value and increasing awareness through meaningful and relatable communication.
A product or a solution will not sell itself unless its value is created in the minds of the consumers. The successful implementation of marketing and sales efforts helps create that value.
Research the market:–
All your efforts are pointless if you do not know about the problems that your target customers want a solution to, whether or not there's a need for your product or service in a particular area, and much more.
For being able to serve your customers better, you'll first need to understand who and where your target audience is, what their pain points are, and whether or not there's a competitor out there. Insights on these matters are gained by research.
While it's not a sure-shot way to get the exact answers, these insights can help you build better marketing and sales strategies.
The extent of your research depends on the scope of your business, say, if your business is limited to an area then finding out who your competitors are, what is it that they are doing to attract customers, what's the average traffic they receive, etc. will help you decide how you should approach the market.
Be known to your target audience:–
For someone to buy your product or service, they will first have to be able to recognize it, and for that, you will have to consistently get in front of your audience.
Letting your audience know what your product or service is, what are its benefits, its usage, and any important information, is crucial to building brand awareness. 
You can be known to a wider audience through various ways like encouraging your current customers to recommend you.
Create a referral program for it so that they feel more encouraged to spread the word, build a strong presence on social media with regular interaction, share industry-related or engaging content through WhatsApp, Facebook, Instagram, etc. Just keep the engagement going.   
Why should your audience choose you:–
When marketing or selling your product, don't just talk about what you can do. Instead, mention the problems commonly faced and how your product or service can solve the customer's problem. Let your audience know what differentiates you.
Break down information about the features in simpler forms, give deeper insights on how those features make things easier for them, talk about the cost-effectiveness, the ease of implementation and adoption, or certain offers that are of great value.
Connect with your customers:–
There are many channels available today to engage with your prospects and customers. With almost everyone having an active presence on messaging apps like WhatsApp or social media channels like Facebook, it has become easier and convenient to market, sell or provide support to them. And there are various tools that are available to make the customer engagement process efficient.
Through these tools, you can manage all your customer information in a single place and keep track of your communication and progress simultaneously. 
Apart from the various social media platforms, word-of-mouth marketing, brochures, print advertising, company websites, etc. are mediums through which you can put your message across. Choose where your target audience is highly likely to be active, and plan your outreach accordingly.
Offers and discounts to attract them:-
Offers and discounts are among the quickest ways to attract new customers and increase sales, as well as retain, cross-sell, and up-sell.
Depending on your business, you can offer your product or service at a special price while ensuring your profits, or give a discount on bulk purchases, provide valuable offers during the off-season to keep the sales running, or club certain products or services together as a value-added offer.
The intention here is to attract new buyers, entice inactive customers and retain the existing ones.  
Closing deals:–
A closure is the culmination of various marketing attempts, multiple follow-ups, and everything that takes to build a relationship with the prospect. This is a critical point and requires even greater attention.
It is important to understand what exactly the customers' requirements are, if there's a mismatch between the requirements and your offering, then it's pointless to pursue any further.
Closing deals can take a long time sometimes, and missing follow-ups midway will lead to loss of potential clients and time. 
You should ensure clear and constant communication with the prospects by thoroughly planning your outreach and the consequent follow-ups. There are multiple sales management tools available to make this process simpler and easier. By choosing the right tool you can significantly improve your sales process and your business results.
Communicate with your existing customers:–
It is important to maintain engagement even after a sale, as it helps build stronger relationships with the customers, thereby improving retention.
Communicate with your customers on platforms they are active on, send them the latest offers, reminders, updates, and discounts through platforms like WhatsApp, Telegram, Facebook, etc.  
Both Marketing and Sales are important for your business and equally important is to understand and leverage them in a way that increases your business' efficiency and growth.
Small and medium businesses are in an age where they have a lot to choose from without cutting a huge hole in their pocket. Using the right tools can help make the process easier, enabling better results from these activities. NeoBiz is an app that is built to make managing sales easier. Click here to download the NeoBiz app now.