NeoBiz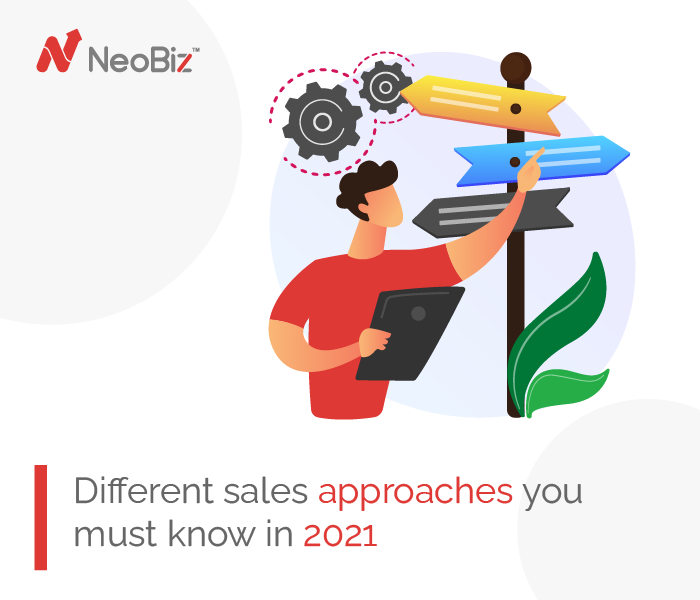 5 Different Sales Approaches You Must Know In 2021
Each salesperson is unique and equally different in their sales approach. 
There is no "one" approach to sell, nor is there a "one best" approach. Sales have been refined greatly over the years and with this refinement, different sales approaches have emerged. 
The kind of sales approach you should use in any given selling situation will depend on your personality as well as the nature of your clients and offerings.
Here are five different sales approaches to help you decide which one works best for you. 
What sales approach best matches your personality?
No one form of sales approach works best for everyone, so find the one that resonates with you the most:
The Problem Solver
It is quite normal for a customer to be confused about what to buy and what not to buy. Customers are looking for solutions to a wide variety of problems; from finding the ideal refrigerator to deciding what to purchase for someone, the dilemma is neverending.
A Problem Solver provides customers with solutions tailored to their needs. A true problem solver knows it is not an easy task, there is a lot of active listening and questioning involved.
The Friend
When you think of the ideal friend, what comes to mind?
The common opinion is that its trust. A friend is someone you can trust. 
If you make efforts to connect with your customers on an emotional level and show genuine interest in helping them overcome their difficulties, then you, our friend, are The Friend. Not everyone uses this approach, nor is it something we commonly find for this approach to work.
You must be successful in building trust with your customers, which is certainly a challenge (though not impossible!).
The Professor
This sales approach is among the more serious ones. This approach might be most effective for salespeople who are more analytical and logical.
By taking this approach, you will need to master your product or service and have extensive knowledge about the particular industry you are in and the target audience you are catering to. 
When you're current with industry trends and enjoy long discussions with customers about them, the "Professor" approach will resonate with you best.
In addition, this is an excellent way to build trust and customers will be willing to turn to you for solutions.
The Doctor
The use of this approach is regarded as one of the most valuable methods of increasing sales. It's a melting pot of different sales approaches.
To be effective at this approach, you need to be as warm and friendly as the Friend, as knowledgeable and experienced as the Professor, and as effective at solving problems as the Problem Solver.
An effective salesperson uses this approach in the same way a doctor examines, diagnoses, then prescribes a solution. He must first understand the problem by actively listening and asking the right questions, then using his knowledge to find a solution, and finally, offer the customer an effective solution. 
The Mirror
Of all the approaches, the Mirror approach presents the greatest challenge. The salesperson employing this approach needs to reflect the personality of the person they are selling to, much like how a mirror reflects our actions.
For example, if the customer is rational, then the salesperson has to present credible facts and other relevant information, if the customer is emotionally driven, then a friendly approach will help close the deal, and so on. 
Also read: Types of key Sales Technique every sales executive should know in 2021
Conclusion
The five approaches described above are just a few of the different types of sales approaches. Every approach has its speciality as well as similarity with other key sales approaches.
A sales opportunity doesn't come easy. It takes a lot of effort to close a deal, and this depends on the approach and techniques used by the salesperson. 
Sales is not about reading questions and answers from a script and expecting the customer to be interested in what one offers. To increase the chances of lead conversion, it is crucial to combine the right approach with the right sales management tool. 
A unique sales approach should also be matched by a unique solution. NeoBiz is one such unique solution to your daily sales challenges. It is a free sales management app that streamlines your sales and customer engagement and helps you manage your sales on the go.