Sales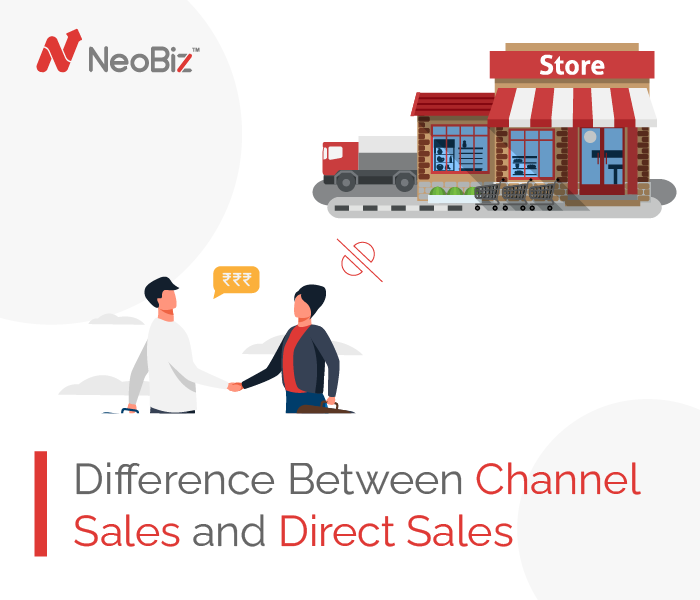 Difference Between Channel Sales and Direct Sales
When you are in the business of manufacturing goods, you must wonder how to sell them to consumers. Well, there are two types of sales methods, direct sales and channel sales, that you can use to sell your goods. 
In this article, we will discuss the differences between direct sales and channel sales. Let's get started.
Direct sales meaning
Have you ever heard the saying that a short distance to reach anywhere is making a straight line? In business, this common saying applies to sales strategies.
Speaking of direct sales, it is about reaching consumers directly without any middlemen. For example, Apple is a company that focuses on direct sales. Customers visit their official stores or online sites to buy laptops, phones or other accessories. 
Benefits of direct sales
Direct sales have numerous advantages. Manufacturing, logistics, and end-to-end sales are handled all within the company and there is constant communication between the team members.
Moreover, there's a continuous flow of feedback from consumers.Direct sales not only enable businesses to obtain valuable information about their customers and their base, but also allow them to increase the value of their product by understanding the issues their customers are experiencing.
Direct sales also helps cut costs. Since all sales are handled in house, changing a sales process is simpler, and companies can stay constantly updated on recent developments and communicate them to salespeople. Also in direct sales, sales proceeds are returned to the company's pockets. 
Disadvantages of direct sales
While direct sales seems to be an attractive option, as the company has full control over the product cycle, we actually don't fully understand its downside. Sometimes, direct sales can prove to be an expensive option for businesses as they need to bear everything associated with the product.
In such cases, it is much better for businesses to arrange distribution and shipping providers, and it is also important to maintain a physical store so that customers can directly buy from the store.
Moreover, companies also need to spend more on hiring internal sales forces. All such factors require heavy costs. Also, businesses need to understand that if they want to expand their business it is important to expand their business in different cities as well and add more products in the product line.
What is channel sales?
Channel sales is all about involving middlemen to sell and distribute products. In many ways, we do call it indirect sales, as the company is not selling the products directly to customers.
For example, Coca Cola does not allow customers to buy products directly from their website or factory. Instead, consumers have to buy products from third party vendors, like shops, a vending machine or any other sales channel.
Benefits of channel sales
If a business owner wants to focus on other functions of the company, then adopting a channel sales strategy is the best option. There is no heavy investment in sales and distribution. All a business has to do is find reliable distributors. By doing so, an owner can focus more on other areas of business like operations, marketing, etc. 
The channel sales strategy allows business to take the burden out of the internal sales force and help them focus their attention on other work.
Moreover, channel sales helps companies to expand their manufacturing more easily. As the vendor or a distributor is taking care of the selling process, there is no requirement to train the internal force to take care of the distribution or the entire logistics part.
Instead, companies focus on improving the quality of goods they manufacture and that results in better revenue. Same way, if a business already has partners, it saves time in distributing products.
Disadvantages of channel sales
The biggest downside of channel sales is the company loses control. Company has no rights to say anything about how a third party displays or sells the product.
Another disadvantage of channel sales method is a company does not see 100% profits. Moreover, while a company ships the product to the vendor, it cuts the costs out of profits.
Conclusion
As a business owner, you must choose a sales strategy wisely, one that will go a long way to get you more customers and boost your business revenue.
Also, to manage your sales effectively, it is also important to get the best sales management tool, to obtain maximum results. NeoBiz is one such platform that makes managing sales so much simpler and easier.
Try the NeoBiz sales management app today. Download NeoBiz.