SMBs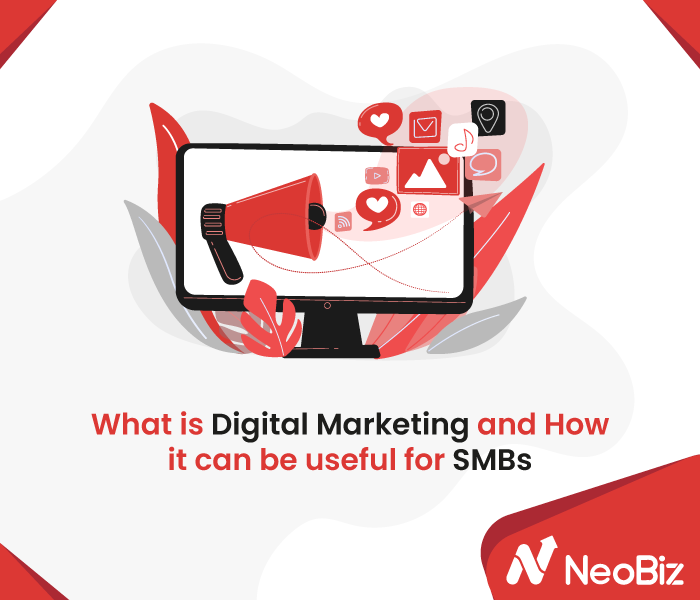 What is digital marketing and why is it important for SMBs?
Today, there are over 4.72 billion active internet users worldwide. The internet is where the masses are spending their time and that's where a business' right place is.
81% of consumers research online before actually making a purchase. Also, many who don't find businesses online quickly conclude that a business is non-existent.
Now, that's not true. But what is true is that we have moved way ahead of the traditional ways of marketing. We still come across billboards, print ads, flyers, etc., but what do we consider them today? Flyers are probably just pieces of paper, billboards are probably just sceneries, and the list goes on. The point is, people now spend more time flicking through their phones than reading an ad in a newspaper.
While traditional marketing is not the wrong way to market to your audience, it's just not the right time for it. The way you market your product and manage sales have changed with time. It's now shifted to digital marketing, which, in simple terms, is marketing that is done on the internet or through other forms of digital communication.
Why is digital marketing important?
More than 60% of the world's population are active internet users. The opportunity to reach people in such great numbers is one of the reasons why adopting digital marketing is so important. The chances of interaction and engagement are higher online than they are with traditional approaches.
Increased customer interactivity
When you place an advertisement in a newspaper, magazine, billboard, and other mediums like these, you do not have complete clarity on whether or not your ad is being seen by your target audience.
On the other hand, building a presence online not only lets you communicate with your target audience but makes you accessible to them as well. They know that you are just a few clicks away.
For instance, a customer is looking for a product or a service that you offer. If you have an active presence on channels like Facebook, Google My Business, Instagram, etc. and you offer them an easy way to get in touch with you, they are highly likely to reach out to you.
Also, being a part of social media communities or groups that share similar interests as you will help you understand what is going on in the industry, what are your prospects looking for and what are their expectations.
A cost-effective way to market
Digital marketing not only lets you reach a wider and more specific audience but also saves a lot of resources. Getting a spot on the billboard or the newspaper will cost you more than it will to advertise your product or service online.
It's not that it doesn't cost at all to digitally promote your offering, it's just that when contrasted with traditional marketing, it's a lot more cost-effective and you know how your campaigns are doing.
Say, you're running an email marketing campaign but the results so far are not what you expected them to be. You can pause your campaign then and there, rework your content and roll it out again. Such a thing would not be possible once your newspaper ad is printed.
Better control with measurable results
Unlike traditional marketing, digital marketing allows you to measure the results of your marketing efforts. How many visits your website gets, for how long does one stay on the page, how many times your content has been shared, the engagement your content receives, etc., all of this can easily be tracked and measured when you market your product or service online.
Being able to measure performance is crucial for any business and a well-planned and well-executed digital marketing strategy using the right tools will make a company profit.
Read: 10 Free Sales and Marketing Tools for SMBs
Businesses can learn and improve by measuring the way people are engaging with their content online. Also, there's great room for experimentation. Traditional marketing on the other hand calls for getting it right in the first attempt.
There are hundreds of tools, like Google Analytics, available today that allow you to measure everything that goes from your end and the engagement or impressions that you get in return. The insights you gain will help you make well-informed decisions for future campaigns.
Enhanced conversion rates
Both traditional and digital marketing's goals are the same – to gain traction and increase conversion. But the latter offers a wider scope of reach and opportunities. Email marketing, social media marketing, WhatsApp marketing, Google Ads, etc. are some of the digital marketing channels that businesses can use to reach their audience.
Digital marketing allows you to approach your prospects on a platform they would prefer, and focus on consumers who would actually be interested in buying your product or service.
Since you can track and measure the performance of the campaigns you run, you will know the reason behind why something was a success and why something failed. Put simply, you will know from where maximum sales came and who engaged the most. This will help you decide on what to do to enhance your approach and target even better. Not only will you hit the right targets, but you will also gain a higher return on investment.
From offering multiple channels to market to increasing conversions, digital marketing is not only an affordable way to market your product or service but a smarter way to compete. The exposure one gains through various digital mediums are far greater than that gained from traditional marketing.
A carefully planned digital marketing strategy will be successfully implemented only with the use of the right tools. There are so many tools available today, both free and paid, that make achieving and measuring results a hassle-free task. NeoBiz is one of the free tools that you can use to manage your customer engagement and increase sales. Click here to download the NeoBiz app today to manage your sales easily.