Marketing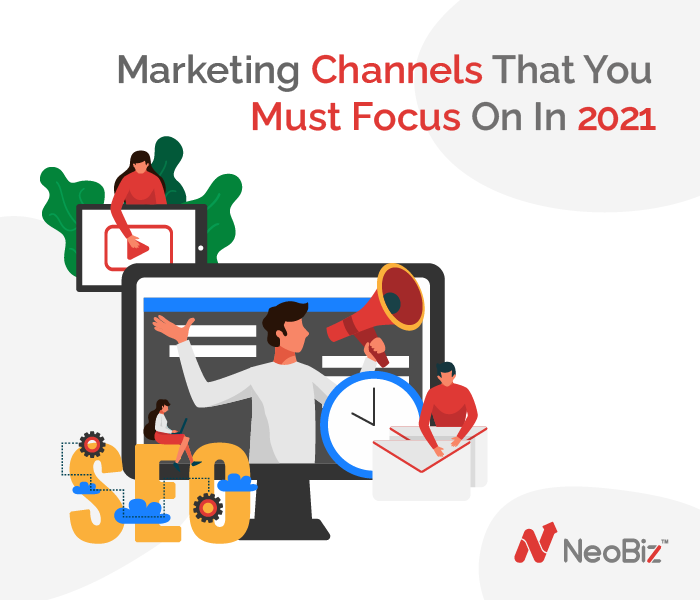 Types Of Marketing Channels That You Must Focus On In 2021
Types of Marketing channels: 2020 has been the most challenging year for businesses all over the world.
Whether it is a curbside service or any capacity requirements, businesses had to face issues in regards to economic conditions due to the pandemic. 
Half of the year went in a whiff amidst the pandemic, we must look forward to the rest of 2021 with a sense of positivity. As per studies, it is said digital marketing in 2021, will be a year of digital transformation, especially when it comes to the adoption of marketing channels to get more sales or attract customers.
Businesses can expect more leads, better customer service, and an efficient lead management system with the use of digital marketing solutions. 
5 types of marketing channels that you should focus on in 2021 for the growth of your business and better ROI. 
Emails
As we are watching, many digital marketing channels have come and gone too soon, but email marketing is still one of the persuasive methods to increase brand awareness without spending much to tell potential customers about the business. 
Making an email list will help you to share videos with subscribers who want to know more about the business. If you have not started with the email list, then you must ask visitors of your website to subscribe to your monthly or weekly newsletters. By doing so, you create leads by presenting content that attracts your customers at every step of the sales cycle.
Content Marketing
We all have heard the common phrase in the digital marketing world – "Content is king" and it clearly says content is the most important part of any business to attract more customers. Although many businesses think building a personal connection with a target audience is the major need of a business, in reality, it is not true.
Such businesses often ignore the fact that content is the most effective marketing channel that helps a business to reach its target audience. Let us see some excellent content ideas that you must focus on in 2021 to attract more customers, they are:
Product Reviews
Product Tutorials
Case Studies
How-to Guides
Customer Testimonials
Once your website is ready with impressive and helpful content, you need to repurpose the content for uploading it on social media platforms and then further represent it in newsletters.
Social Media Videos
YouTube uploaded their first video in 2005, since then the quality is increasing day by day. For the past 15 years, video has become an important part of a successful marketing strategy.
While we look for the best marketing channel that you should focus on in 2021, you need to think about various ways how videos can create brand awareness and increase customer engagement. 
Instructional Videos
Testimonials Videos
Product Demos
Interviews
Announcements
It is a wise decision to go live with videos on social media platforms like Facebook, Instagram, and YouTube to boost brand awareness. While you are live, the most effective marketing way is replying to viewers" comments or questions and also include a call to action(CTA). 
You need to be sure before you give a sales pitch, you must promote the value of services or goods offered by your business. 
Also Read: Difference between sales and marketing
Organic Search (SEO)
Your customers tend to search you either by getting a referral or visiting your official website. But the question comes, how do you get your website noticed by the Google search engine? The one and only way, creating an organic search campaign that ranks your website on the first page of the search engine.
Organic search is all about implementing SEO practices for your website. To apply a proven SEO strategy, you need to start with placing the right keyword naturally in your website content, then further move with more complex SEO practices like backlinking and writing informative content like blogs and PRs.
Organic search plays an important role as a marketing strategy that boosts brand awareness and creates more leads. 
Increase Your ROI and Leads in 2021
The main business goal with the passing year must be an increase in the number of leads. With 2020 creating a big fuss for many businesses, increasing the number of leads with the above marketing channels should not be an issue.
However, you can get increased leads every year by using the above marketing channels that you focus on in 2021 to boost brand awareness.
Improve your marketing efforts with NeoBiz. Download the app now!