Marketing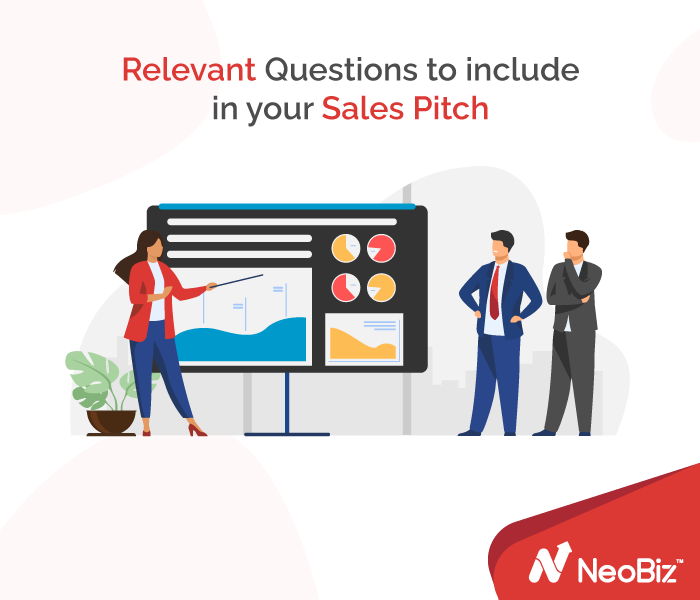 Relevant Questions To Include In Your Sales Pitch
A sales pitch is exactly what it sounds like. A well-crafted personalized conversation you pitch to your potential customer. It gives you an opportunity to qualify or disqualify a prospect.
It lets you gain an understanding of the prospects' requirements in order to assess whether they are genuinely interested in your product or service.
Unfortunately, not much attention is given to the initial stages of the sales process. Therefore, it's crucial that you know the relevant questions to include in your sales pitch to increase your chances of conversion.
Fact check: Today, qualifying a prospect takes 22% longer than it took 5 years ago
Sales Pitch Meaning – The Fundamentals
The term "sales pitch" has been there for a long time now, but the concept has diversified from an old school perspective to a high-level lead qualifying technique. It's the way a salesperson attempts to persuade leads to get interested in their offerings, that later becomes a sale.
If it's done right, you'll be able to establish a good relationship with your customer. If it's done wrong, there's a high chance that your prospect will not get back to you even after several follow-ups. The more effort you put into creating your sales pitch, the better results you'll come across. And, it's worth the work. Guaranteed. 
How to start a sales pitch?
Sales pitch demands attention. Your conversation nature will decide whether you'll get the deal or not. Researching a little and investing your time in conducting successful sales pitches can be really helpful in the later stages of sales management for your business.
Let's delve into how you can start a good sales pitch.
Customer research and planning
Before you start calling, ensure that you have a plan and you're prepared. It's also important to know who you're pitching to. Research your prospect, go through their profile, their interests, your mutual connections, and who has the final say when it comes to making a decision. 
If you're talking to the business owner itself, well and good, but if you're connecting with somebody else who passes on the message, make sure you deliver your pitch precisely and request for another call with the concerned person. Either way, your prospect already knows that you're going to try and sell him something, give him something that meets his/her requirements.
Ask the right questions. Always.
The wrong question can break the sales cycle even before it starts. Research how your product or service can be helpful for your prospect. Consider their plans in terms of individual requirements or businesses.
Discover their problems and give them solutions instead of trying to make a sale. Your sales pitch needs to be clear, precise, and to the point.
Therefore, the questions you ask hold utmost importance. You should also understand the type of sale your product or service requires.
Read: 5 types of sales you must know in 2021
Qualify your sales prospect
The questions you ask can directly affect the buyer's decision. It helps in qualifying the prospect and pushes them further in the sales process. Your aim should be to see if you and your prospect have a mutual understanding and fit the criteria.
Some situational questions you can ask:
What is the current strategy you're using as a business owner/entrepreneur/team?
Do you have any budget for this requirement?
Do you think (insert your product/service) can make your business a little better?
What impact can (insert product/service) cause on your business?
How much time can you invest in your business as an individual and team?
These questions let your prospects know that you're not trying to hard-sell your product or service to them. They'll be more likely to answer your questions when they know you're concerned about their business rather than explaining why you want to sell what you want to sell.
Ensure that you're not asking a lot of questions. Limit your questions and let them ask too. Avoid making your prospect overwhelmed. Follow a set of good sales management strategies to avoid making any mistakes. 
Questions to include in your sales pitch
Use these questions to increase your conversion rate and customize it according to your business. You might not be able to use all the questions in a single call but this is just a wireframe you can use in your sales pitch.
I went through your business website and I would love to know more about how you would like to describe your business?
What does your typical workday look like?
What is your role and what metrics are you responsible for?
What is your goal as a business owner/team?
What is the approximate time period you have decided to achieve your goals?
Are you facing any challenges to achieve your goals?
How do you plan to tackle these challenges?
What is a successful business plan according to you?
Do you think (insert product/service) can fit in your business plan and help it to be successful?
What are the curveballs that are stopping you from using (product/service) – Could be budget restraints, non-relevant to the business approach, already has something like this, has talked to a competitor and has a better deal etc.
Did you notice, there aren't any Yes/No questions, that's because it stops the interactive nature of the conversation and makes you the dominating one here. 
Final pitch
Today's customers are smart. They have volumes of information at their fingertips and have multiple options to choose from.
But no matter what, business is always people buying from people – be it B2B, B2C, or any other form of business and that's the reason you should always think about your prospect's pain points first, before thinking about making a sale. It should nurture opportunities and build a strong bond with your customers. 
Get sales-ready with NeoBiz and streamline your sales process. Manage your sales and interact with your prospects from your phone to increase conversion.