NeoBiz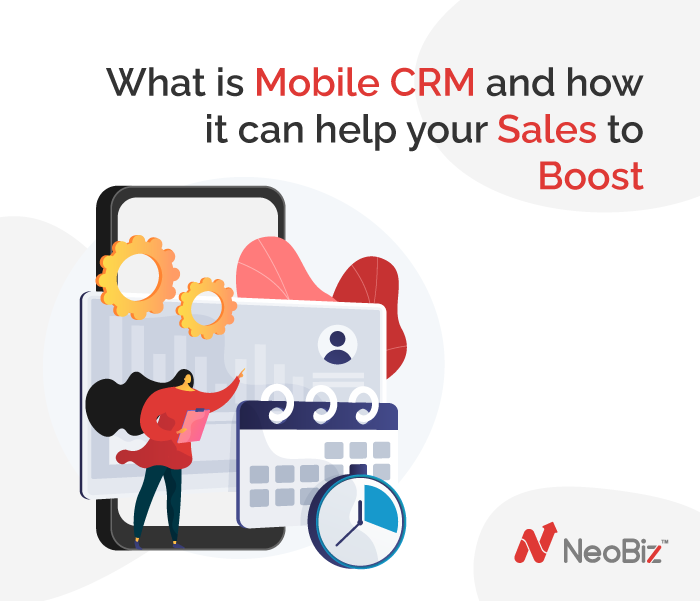 What is mobile CRM and how it can help your sales to boost
Can you imagine leaving your house without your mobile phone? Or waking up in the morning and not checking your phone?
Well, the advantage of this to your business is that it's easier than ever to create a truly mobile workforce but it requires you to give your team the tools they need.
And for many businesses using a CRM can mean better sales workflow. A mobile CRM allows your business the freedom to take sales management into your pockets. Quite literally.
Companies can effectively manage their growing salesforce with a comprehensive mobile CRM strategy. With a mobile sales tool, sales teams can have the right information at their fingertips, allowing them to focus on communicating, forming relationships, and closing more deals.
What is mobile CRM?
Mobile Customer Relationship Management, can be defined as a CRM platform that has been specifically designed for mobile devices and tablets. It allows users to get a holistic CRM experience on their mobile phones.
Considering the various types of CRM software available in the market, mobile CRM tools are the most popular and effective. Unlike the traditional CRM tools, mobile sales tools are flexible and provide you with the freedom to communicate with your customers from anywhere.
Interesting fact: Research says there'll be a 13% CAGR in the mobile CRM market by 2029
An essential requirement for most sales professionals is flexibility. Due to the diverse working conditions, including remote working, work from home, and more, it makes even more sense. With the help of a mobile CRM, sales reps can have access to important data irrespective of their location.
How is your sales affected by a mobile CRM?
Smartphones and tablets are used by many people to accomplish their daily tasks. Mobile sales tools have become indispensable to a company's sales process as they provide relevant information about the customer instantly.
Mobile CRMs are amongst the best CRM tools and one of the primary reasons is due to the incredible impact they can have on your sales figures. The number of deals you close is related to the quick customer information available to the sales professional.
Using a mobile CRM app, your sales team can access the required data even when they are out on the field. The app also ensures to give insights related to previous meetings, customer activities, purchase history, and other data right on their smartphones. This makes managing sales a lot easier and quicker.
Read: 5 reasons why small businesses need a sales management tool
This allows salespeople to communicate with prospects and convert them into customers instead of wasting time searching for information and notes.
Benefits of implementing a mobile CRM tool for your business
Many companies have found that mobile CRM apps help them maintain good client relations and provide better sales and operations experiences. Mobile CRM helps you maintain and track client transactions, communications, and dealings with the enterprise.
Let's get to know the benefits of using a mobile CRM in detail:
Increased Sales
Allowing your sales reps immediate access to the customer information, reminders, pricing details, and other necessary information while they're focusing on prospect communication, will enable them to close more deals and increase the overall value of the deal.
With a mobile CRM, sales representatives can access all the relevant information on their mobile phones without looking up contact information or digging through notes to find information about their last conversation with a lead or prospect. By removing clutter and building genuine relationships, they will be able to close more deals.
Increased Productivity
Using a CRM on smartphones and tablets can be beneficial for maximizing productivity within your team. Having the calendar and contacts integrated into the CRM can save reps a lot of time.
Sales reps can access prospect contact information and recent notes through their smartphones without having to switch between multiple applications for any scheduled meetings.
Moreover, viewing the weekly plan lets sales reps improve their sales efforts and make more client contacts than would otherwise be possible.
Enhanced Lead Management
Mobile CRM also speeds up the process of collecting relevant information. As a lead management system, CRM provides visibility into what is happening in the sales funnel and how better to allocate the resources.
The CRM permits sales reps to input contacts, store notes, request necessary information, send proposals, etc., hence increasing management's access to the latest customer data, which, in turn, increases the ROI on the CRM system.
Customer Satisfaction
Closing the sale is not the end of the process. It is important to ensure that customers are consistently impressed by your business' commitment, value, and level of service.
Having sales and customer support aligned and having access to the same current information is essential.
As a result of adopting a mobile sales CRM, your business will be much quicker at finding, communicating, and resolving requests, complaints, and potential problems facing existing and future customers.
Mobile CRM software – Next generation of CRM
Managing customer information and leads no longer requires learning complex user interfaces; it's now all about mobility. More and more businesses are shifting to easy, simple, and multi-tasking CRMs to implement in their business.
In the foreseeable future, businesses will definitely shift to mobile CRM applications that enable sales representatives to stay connected and collaborate with customers, even on the road.
As mobile adoption grows and becomes more flexible in business workflows, traditional desktop applications such as CRM software are moving into the mobile space. Having a mobile-friendly strategy has become a necessity now. 
A good mobile CRM that helps you in sales management, storing customer information, and team management is NeoBiz. With this mobile CRM software, you can start storing customer information, track sales productivity, set sales reminders and notifications so that you never miss a follow-up again.