B2B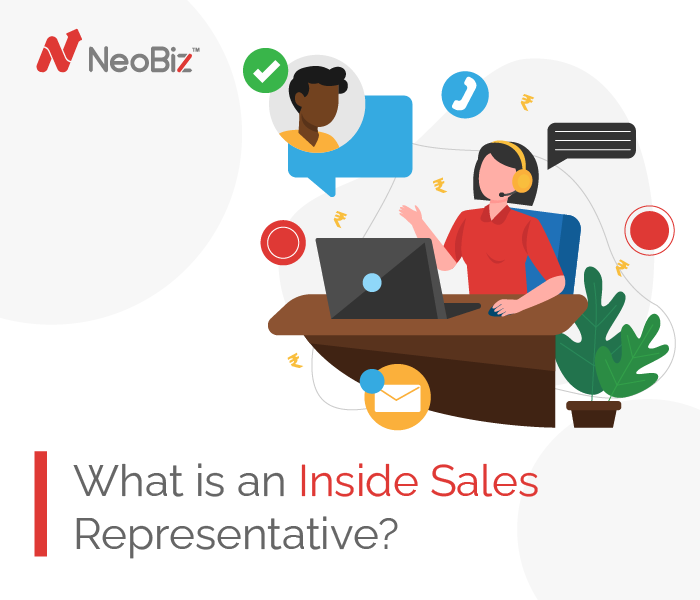 Top 5 Inside Sales Representative Skills
Did you know, inside sales are growing more than outside sales by a huge margin, so there is no doubt why there is more need for Inside Sales representatives.
According to sales infographics, for a single outside sales representative being hired, ten times more sales reps are entered into the company. To translate there are many opportunities for Inside Sales Representatives. But the point is what exactly is an Inside Sales Representative and what are their responsibilities?
An Inside Sales Representative is a person who sells a company's product or services by sitting in the office and they don't go out to meet leads in person. Conventionally, inside sales representatives used to work over phones, typically known as Telesales, but with the advancement of technologies, they work through Email and other online communication channels.
In simple words, Inside sales is a perfect way of handling sales remotely.
Responsibilities of an Inside Sales Representative
Why Inside Sales Representatives are important for a company and what do they do? Well, Inside Sales Representative play an important role when it is about achieving revenue goals and customer acquisition. Their role is to make more than dozen calls in a day with the hope of closing deals with qualified leads to meet the company's sales goals.
Other Responsibilities
Getting new sales opportunities through inbound ways and outbound calls or emails.
Showing online demo sessions to customers
Inside sales representatives understand customer needs and requirements.
Routing opportunities to appropriate salespeople to close the deal.
Maintaining the database of leads
Team up with channel partners to make a sales pipeline and convert leads into sales.
5 Best Inside Sales Representatives Skills
Unfortunately, not every salesperson has specific traits to become an Inside Sales Representative. Inside Sales aspirants must have particular characteristics to perform the job effectively, from getting leads to transferring them to outside sales reps.
Read: 9 key sales techniques every sales executive should know in 2021
These skills help them to achieve the company's sales goals. The following skills are important to become a successful Inside Sales Representative:
Research Skills
Inside Sales, reps need to do more than just picking the phone and call any random number they have inline without a plan. They need to pre conduct research to get information about their leads and their needs, to increase the chances of sales.
There are few things that one should research before they call the prospects like they need to gather all relevant information about the prospect, though some sources like LinkedIn.
For a successful Inside Sales rep, it is important to have thorough knowledge about the company's product or services, although it is normal, in-depth knowledge leads to expertise and a successful performer. By understanding and researching about the product before they connect with leads, they can explain to their customers the same in detail.
Rapport Building Skills
As Inside Sales Representatives don't meet prospects in person, but it does not show they don't have to build rapport with customers. Building rapport for a salesperson is more important than we think, as it is daunting to maintain a relationship with someone over the phone or via email.
Some Inside sales reps, research about the prospects beforehand to connect with them in a better way, while some have a natural ability for creating instant rapport. Whatever the scenario is, it is crucial for an inside sales rep to build a rapport with customers, to get success in terms of sales.
Communication Skills
In Inside sales, it not only depends on what reps say, but it is all about how they say it. Customers just don't listen to the content, instead, they also look at the tone, speed of talking, and volume of the rep. Communication of Inside Sales Representatives depends on the tonality of the speaker.
Interviewing Skills
A sales rep must know when and how to put the right questions. Right questions can help reps to keep customers engaged in the conversation and offer valuable information in the direction of making sales.
A successful salesperson does not share detailed information about products or services of their business instantly, rather they prefer asking questions from customers about their needs before they offer the right product to meet their requirements.
Wrap Up
In today's scenario, many companies who are looking to increase their revenue would not mind investing more in hiring Inside Sales Representatives.