Whatsapp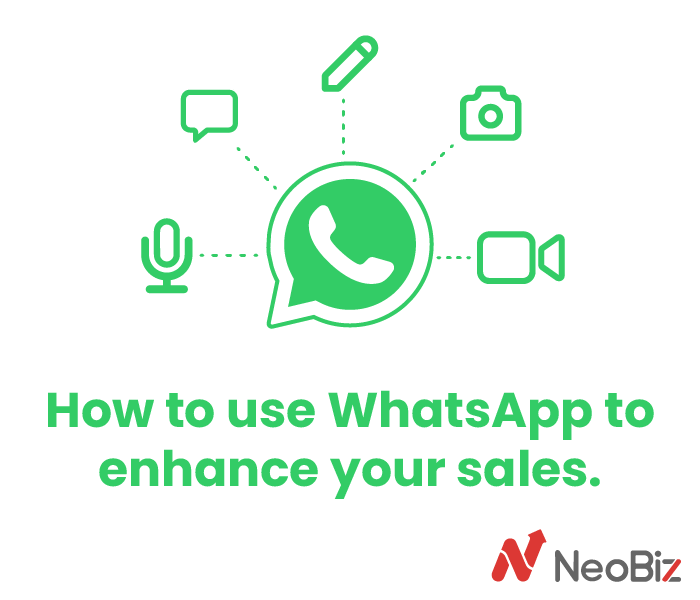 How to use WhatsApp to enhance your sales and marketing
WhatsApp, today, has over 2.5 billion monthly active users globally, and India is its largest market with over 390.1 million active users. WhatsApp is popular not just for communicating with friends and family but also because it's a very useful business communication tool.  
Facebook, Inc, keeping small businesses in mind, launched a separate variant of WhatsApp in 2018, i.e. WhatsApp Business. The app helps businesses streamline their customer engagement; businesses can personally connect with their customers, showcase their products and services, and use special tools to automate, classify and respond to customers quickly.
But are businesses using this channel, which has millions of active users and a message open rate of 98%, to its fullest?
Why use WhatsApp Business?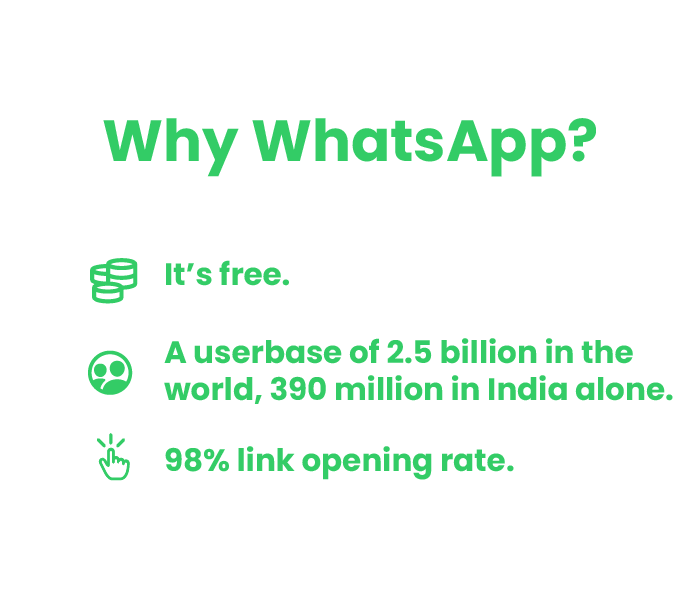 WhatsApp Business is not just a free direct communication app, various features in it can significantly change how you manage your customer engagement.
Create your WhatsApp Business Profile:
Let your audience know your business better by providing essential information like your business address, website URL, contact information, and anything and everything that's important for a customer to know you well.
You can also create a catalog to showcase your product or service with important details like pricing, description, codes, etc.
Create Groups:
WhatsApp is a reliable communication channel, and businesses can use it to send relevant information like offers, reminders, updates, etc. to their prospects and customers. 
By creating groups or communities on WhatsApp, businesses can manage their communication in a much more organized manner. They can have a separate group for a particular set of existing customers, a separate one for the not converted leads, another one for new customers, and anything else depending on the business requirements.
Send Bulk Messages:
WhatsApp messages have an open rate of almost 98%, this officially makes it one of the best channels to communicate with customers and it can be used to send messages in bulk to save time and resources. 
WhatsApp Business has a very useful feature called "Statistics". With this, you will know how many messages have been sent, how many have been delivered and read.
Generate Leads:
It is about giving your prospects an option to communicate with you. By increasing conversations on WhatsApp, businesses can generate valuable leads. Conversations on WhatsApp can be increased by adding a click-to-chat button on your company website and social media channels. 
Given its flexibility and comfort, prospects are likely to want to engage with you on WhatsApp if they come across your page and the presence of a click-to-chat button will encourage them to take the next step.
Also, using chatbots on the platform can make the engagement feel natural.
Create and Assign Labels:
To make handling conversations a lot easier, you can categorize your messages by assigning labels to them. Create and assign labels according to your preferences, such as 'New', 'Interested', 'Follow up', etc.
In different colors by utilizing this feature, you can organize and easily find your chats and messages.  
You can also create broadcast lists for select leads or customers from your labels. Your broadcast message will be individually sent to all chats tagged with the label you selected.
Provide Quick Support:
There are many questions that are regularly asked. Questions like – 'May I know how much it costs?', 'Where's your office located?', 'Can you send me a brochure?', etc. WhatsApp Business has a feature called "Quick Replies" where you can save answers to some regularly asked questions. This will not only help you save time, but your customers will have their questions answered quickly. 
You can also schedule "Away Messages" and "Greeting Messages" in case you are unable to respond immediately.
Communicate with your Team:
WhatsApp is not just for communicating with prospects or customers, it is a great tool for internal communication as well. Members can share PDFs, important links, videos, audios, etc. in one place.
Businesses extensively use channels like Facebook and Instagram to promote their brand, adding WhatsApp to the list will only enhance the marketing and sales efforts. Studies suggest that there is a 40% chance of prospects replying to your WhatsApp messages and a 27% chance of an increase in sales leads. 
We at NeoBiz, understand the importance of WhatsApp and how it can be an extremely effective channel for communication. NeoBiz, a free, safe, and secure sales management app, comes with WhatsApp and SMS integrations to expand and enhance customer engagement. Click here to download the NeoBiz app today to manage your sales easily.