Marketing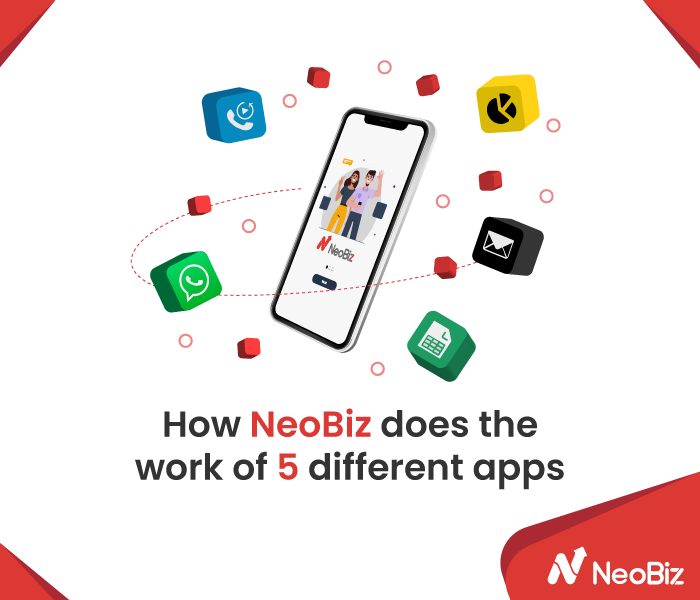 How NeoBiz does the work of 5 different apps?
When you manually manage your sales process, the probability of committing errors is high. Chances are that you lose a deal because you didn't follow up on time, or you forget to send something that the customer asked because you were too busy. Or maybe, you have your data stored or noted in different places and you struggle to find the right information at the right time.
In this digital era, limiting your sales efforts to conventional ways will not be enough to grow your revenue. It has become extremely important for businesses to streamline their sales process to achieve higher rates of growth.
Today, we have many tools available to manage various business processes. There are diallers, scheduling apps, lead management systems, and other platforms that make daily workflow easier to manage. While optimizing business processes using the right systems is great, having as many tools as there are tasks is only adding to the workload.
NeoBiz is a mobile app that helps you manage not one but multiple tasks in a single place. It is a free app for sales management, built specifically for micro, small and medium businesses.
It's a simple yet comprehensive platform that incorporates in itself the benefits of the following platforms:
Spreadsheets
On the NeoBiz mobile app, you can store, organize and manage all your prospect and customer information in one place. You don't have to maintain multiple spreadsheets or handwritten notes to keep your data up to date.
The app not only gives you a complete view of your data but also allows you to segregate it under customizable labels and tags. This makes managing data more convenient. Moreover, you can access your data anytime, anywhere, and at no risk of losing it.
Reminder apps
You don't have to install a separate app to keep track of your tasks. NeoBiz helps you handle your day-to-day sales tasks without missing out on anything. You can set reminders for upcoming calls, meetings, or any other task that is due soon. This way, you do not let any opportunity slip away.
Also, just like how you schedule emails beforehand on Gmail, you can schedule messages ahead of time on NeoBiz to avoid forgetting to send relevant information in case you are occupied elsewhere later. All you have to do is predefine your message, set a date and time, and let the app take care of the rest.
Communication apps
NeoDove centralizes your communication so that you don't have to shuffle between apps to connect with your prospects and customers. You can directly communicate with them through phone calls, SMS, in-app messaging, and WhatsApp.
Read: How to use WhatsApp to enhance your sales and marketing
The number of smartphone users worldwide is forecasted to exceed 3.8 billion in 2021 and the average screen time has increased to 5.1 hours. The point is, a huge percentage of the globe are smartphone users and spend hours on the phone. If not a call, the chances of them seeing your message are extremely high.
Diversifying your communication channels is, thus, crucial. And on NeoBiz it's possible.
Notes apps
Through the NeoBiz mobile app, you can create notes for each customer in seconds and store them, ensuring no critical information is lost. It is fast and as convenient as using a pen and a piece of paper to take notes, but more reliable.
You don't have to have a separate app or a notebook or a stack of paper to note down the information provided by each customer. And all your notes are tucked safely in your pocket, ready to be accessed anytime you want.
Integration tools
Having all your leads managed in one place not only brings clarity to the lead management process but also improves your productivity. You don't have to maintain them in different places or manually update them on a single sheet.
You don't need to use various tools to have your leads fetched from channels like Facebook Ads, Google Ads, etc. to a spreadsheet or a lead management tool. Integration with these channels will seamlessly direct all the leads generated from these channels to the NeoBiz app where you can conveniently handle all your data in one place.
NeoBiz has been built around simplicity and productivity. It incorporates the day-to-day essentials of managing the sales process and enhancing customer engagement.
Click here to download the NeoBiz app today to manage your sales easily.