B2B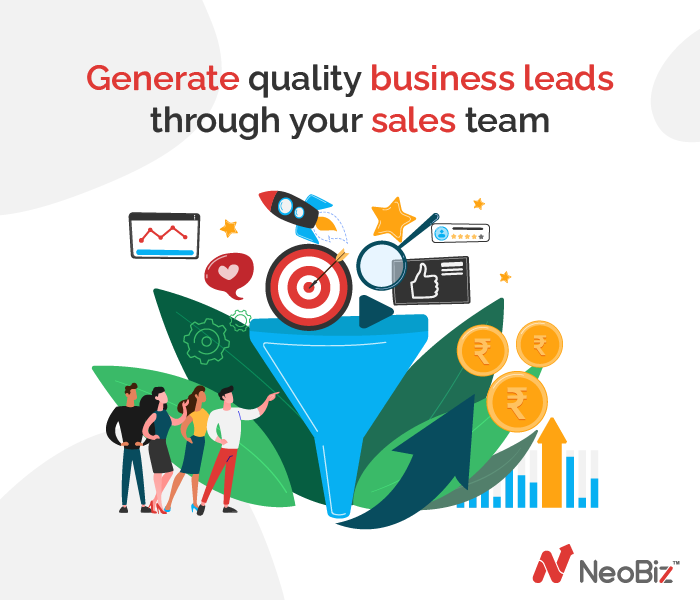 How to Generate quality business leads with the help of the sales team
Business leads are individuals or businesses who may become your customers.
A constant flow of leads is what keeps a business going. But the lead generation process is never a simple one. Businesses face multiple hurdles in the lead generation process from choosing which channels to use for communication to compete to grab customers' attention.
68% of businesses report struggling with lead generation, and in a dynamic business environment, companies must rethink their lead generation strategies.
In this article, we will take a look at the role that sales teams play in generating leads and the strategies they can use to generate more business leads.
Let's find out how to generate leads:
A sales team's role in generating quality business leads
Today, sales teams play a critical role in generating new business leads. In addition to being the first point of contact, they are also the human element of the "sales" process.
The marketing team is typically expected to generate leads through well-researched and executed campaigns. But in most cases, businesses do not always have a dedicated marketing team.
In such cases, the sales team gathers data, contacts potential clients, qualifies them, and ultimately converts them.
Today, the lines between sales and marketing are blurred. When it comes to lead generation, it is not just the marketing team's responsibility. Sales play a vital role in generating qualified business leads.
Since they personally interact with prospects and customers each day, the sales team understands the ideal customers' preferences better.
5 ways to generate more sales leads
You need more sales to increase revenue, and more sales lead to increase sales. Here are some ways in which your sales team can generate business leads:
Request referrals
Referrals from your existing customers are more powerful than any outreach to prospects by you. Your current customers already know you and have firsthand experience of your product or service, so whatever they say will be more relatable to those who might be skeptical of your brand.
However, once a sale has been closed, many salespeople don't engage with their existing customers. Your team should avoid making this mistake. Proactive sales engagement is the key to customer satisfaction. Happy customers bring more customers for your business.
Encourage your sales team to engage with your current customers, thank them for their continued business and ask them about their experience with your product or service. Ask them to invest time in building stronger relationships with your customers as it is critical for them to trust you first.
Eventually, request for the contact information of other businesses or customers in their network that they think might benefit from doing business with you. And thank them for the referral with a thoughtful gift.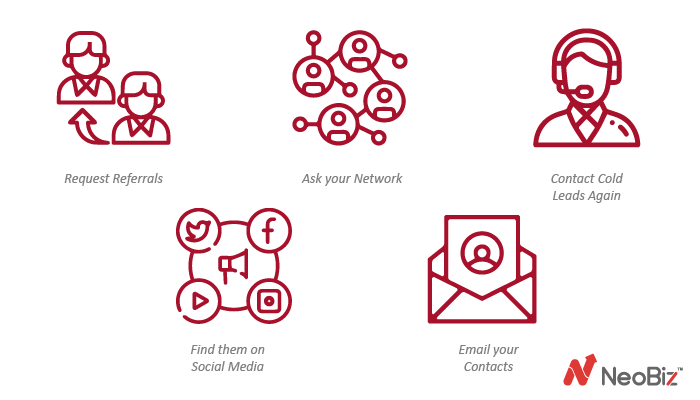 Ask your network
People have networks of friends, family, and business associates, and they are often overlooked as sources of leads for a variety of reasons. Again, this is a mistake salespeople should avoid.
Although it can be challenging to ask within your circle, it is definitely worth considering. Your sales team does not need to be too direct. All they need to do is let their network know that they are looking for potential customers.
Furthermore, be sure to clearly define the type of customers you are looking for. You can ask your connections to forward your details to anyone they think might benefit from your business or vice versa.
Contact cold leads again
Many times, when your sales team approaches potential customers, their proposal is denied. It could be due to budgetary issues or maybe it was just not the right time.
This shouldn't discourage your sales team from contacting the leads again. The sales team has an advantage here since they don't have to pitch the product or service from scratch. However, sending out regular updates and offers is crucial to accomplishing this.
Whether it's contacting prospects who have gone cold or re-engaging leads who are currently active, it's not a task to ignore. Several sales have been lost simply because salespeople did not follow up. Make sure your sales team does not overlook any lead.
Nowadays, almost everyone is present on at least one social media platform, which opens up a huge opportunity to generate quality business leads.
By using social networks like LinkedIn, Facebook, Instagram, etc., your sales team can expand their reach. These platforms are actively used by millions of people, so your sales team should target your audience with relevant and engaging content to get them interested in your solution.
Furthermore, your team can also keep a close eye on Q&A platforms like Quora. There are many people seeking solutions to their business problems there. It's just a matter of filtering questions and giving relevant answers to those that are most relevant to the industry you are in.
Email your contacts
Contacting leads through email is not an outdated strategy. It is, in fact, one of the best ways to generate quality leads.
The focus of a sales team should be to provide as much information as possible in as concise and meaningful a manner as possible. Also, sending emails at the right place and the right time is essential. As a general rule, if the first email goes today, the next ones should not lag too far behind.
Persistence is crucial in this situation. Consistency in your team's approach is the key to generating quality business leads.
Final thoughts
Your sales team knows your target audience better than anyone else in your company since they interact with them on a regular basis. Compared to a marketing team, their efforts in generating leads are more polished.
You need to combine various strategies in order to succeed. The approaches outlined above are not the only means of generating new sales leads. It is also a great idea to have your team attend various networking events, send messages regularly, etc.
In addition, there are so many tools available today that simplify the sales process. Choosing the right tool will allow your team to focus on interacting with more leads and generating more prospects instead of doing tedious tasks such as dialing each number one by one or maintaining data on multiple Excel sheets.

NeoBiz is one such sales management tool that streamlines your sales and customer engagement process and lets your team manage sales right from their phone. You can download it by clicking here.