SMBs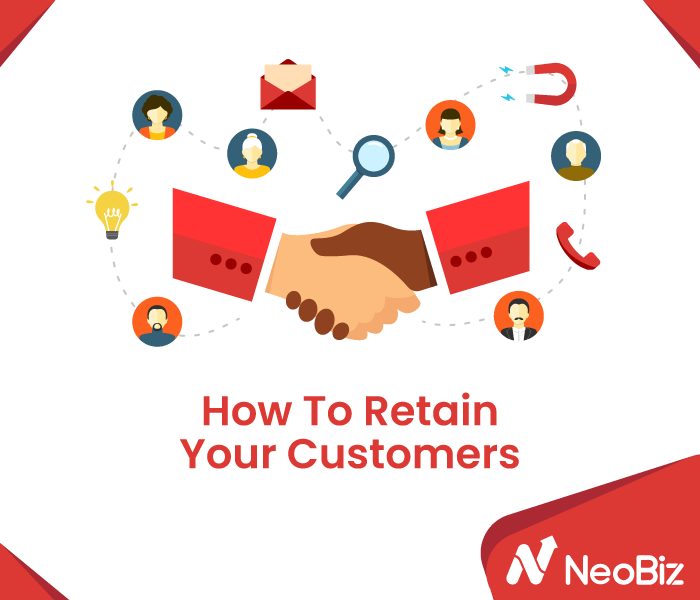 5 Ways to Increase Customer Retention
While acquiring new customers is important for your business, retaining the existing ones is just as important. Studies suggest that existing customers are likely to spend 31% more compared to new customers. Also, it is 5-25X more expensive to acquire new customers than it is to retain the existing ones (Customer Retention).
More such statistics show how crucial it is to retain your existing customers and how they impact customer acquisition, revenue generation, and your brand's marketing.
How to Increase Customer Retention (5 ways)
Welcome feedback and act on it
The best way to know whether or not your customers are happy is by asking them for feedback. It's not just the existing customers you need to ask feedback from, but the ones who decided to leave. It's said that your unhappy customers are your greatest source of learning, asking them for feedback will let you know where you fell short.
There are multiple ways to ask for feedback – surveys, emails, and health-check calls to name a few.
Also, feedback can sometimes be difficult to accept but make sure you take them constructively, act on them, and make it a point to bring the required changes. Not only will your customers feel valued, but this will also help you achieve lifetime loyalty.
Enhance customer support
Your customer success team plays a key role in keeping your customers delighted. A good support team listens to understand and takes actions to help customers truly succeed through the product or service being offered.
80% of companies believe that they have provided excellent customer service, but only 8% of customers believe that they have received excellent customer service. It's not always in how prompt you are at addressing the issue, but in how effective you are in helping them throughout their experience.
Make sure your team is proactive, empathetic, helpful, and most importantly, easily accessible. Don't put customers through a frustrating experience while trying to reach you, give them multiple contact points, and make sure you are there.
Keep the engagement going
Sometimes issues are solvable but they go unnoticed only because one doesn't ask and the other one decides not to tell. Don't wait for a problem to arise, keep the engagement going with your customers.
Many times customers refrain from stating out loud if there are any problems they are facing. What they do instead is look for some other product or service and then leave you. And they cannot be blamed much for it, we just have a lot to choose from today.
Loyalty is not guaranteed with the first purchase, it is guaranteed by the efforts you put into your relationship with the customer. Make it a point to keep your customer information organized and stay in touch with them on multiple channels to keep the interaction alive.
Also Read: Sales Management App
Implement customer loyalty programs
79% of consumers are more likely to buy from a company that rewards loyalty. Loyalty programs not only help you retain your existing customers but also help you acquire new ones. Your loyal customers are your most powerful marketers. Recommendations by them are crucial for attracting new customers.
These programs or schemes should be designed in such a way that they offer maximum benefit to your customers. It's a matter of great importance to make your customers feel valued. You can give them special offers or discounts, customer referral bonuses, reward them for their continued stay with incentives, or do something special on dates that are important to them.
In the long run, spending on your most loyal customers is both beneficial and cost-effective for your business rather than concentrating on acquiring new ones. They will spend more on your business as they know they will gain benefits out of it.
Stay true to your words
Customers are important regardless of the type of business you are in, and they will come back again only if you keep your promises. If you have promised them a reward for their loyalty, give it to them, if you have promised a discount, give it to them, but don't forget to honor your promises.
If they can bring new business opportunities for you, they also hold the power to take them back. Negative reviews by them will result in the potential loss of customers both new and old.
New customers reflect business growth, but recurring churns will lower your revenue and profits. So, you need to work on your retention strategies. The first step is to find out how you are performing, seek feedback and then act on it accordingly.
There are various tools available today that help you track your customer's journey. From maintaining all the necessary information to helping you provide them with a better experience, the right tool will never let you miss an opportunity.
At NeoBiz, we try to ensure that you never miss an opportunity. It is a free, safe, and easy-to-use mobile app that lets you store all your customer information in one place, manage your sales from start to finish, communicate with your customers on multiple channels like WhatsApp, SMS, etc. with just one tap, and a lot more. Click here to download the NeoBiz app today to manage your sales easily.