Sales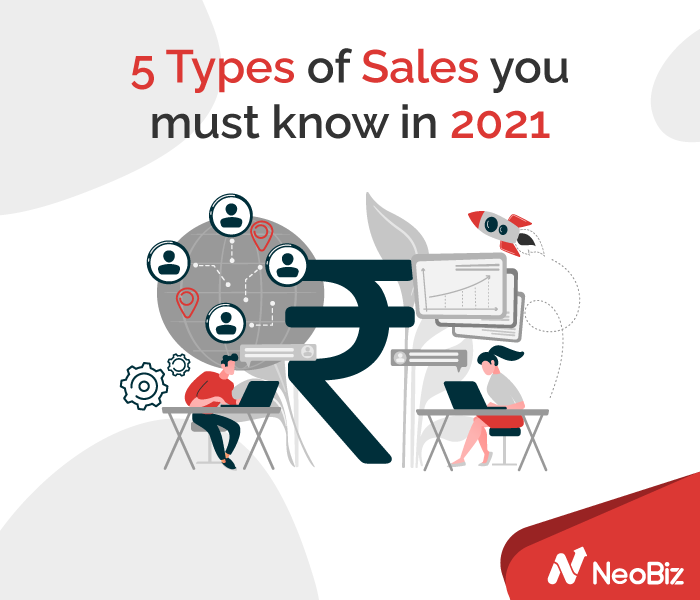 5 types of sales you must know in 2021
The term "sales" means much more than just selling a product or a service to the target customers. It is a blend of all the activities that lead to conversion, acquisition, and retention.
Sales is about understanding the customer's needs first. Then identifying how the product or service can help them, and finally convincing them that what you are offering is exactly what they need to solve their problem.
Sales play a critical role in sustaining and scaling a business and without it, there would be no business. 
Depending on the type of business or the type of industry a business belongs to, there are different types of sales approaches a business leverages.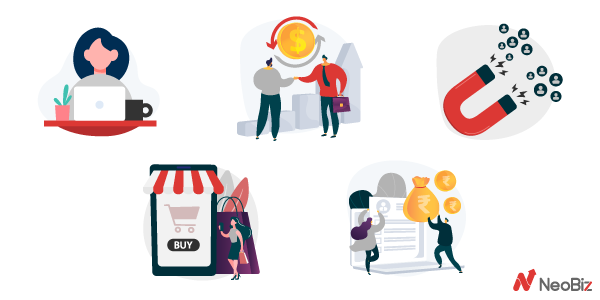 5 types of sales
There aren't just one or two ways of selling. Sales is categorized into different types depending on the type of product or service being sold, the audience that is being targeted, the channel of communication, and more.
Inside Sales
Inside sales, in simple terms, is sales done remotely rather than meeting prospects face-to-face. It is not a very new concept as it has been prevalent ever since people started using phones, but has become greatly popular since the COVID-19 outbreak.
With the increased number of communication channels and sales management tools, inside sales have now become a dominant sales technique among businesses. It is highly preferred because of the significant increase in prospecting as compared to field sales.
Field Sales
Field sales or outside sales implies that sales representatives meet prospects face-to-face. A field sales force is often on the go, meeting potential customers and pitching the product or service outside of the office.
Unlike inside sales, field sales do not allow salespeople to connect with many prospects or customers in a day. Given the traveling, it's difficult for salespeople to cover a wider range of prospects.
Inbound Sales
Inbound sales is about pulling an interesting prospect to you and then qualifying them. Put simply, in this type, a potential customer approaches you to inquire about the product or service that you offer without you having to approach them.
The prospects here are more willing to learn about your offering and how it can solve their problem. While this may sound like a win-win situation, there needs to be a lot of effort put into building trust, knowing the exact nature of the problem, and deciding whether or not you can actually help the inbound prospect.
Account-Based Sales
Account-based selling is a highly personalized type of sales wherein high-value clients are provided maximum focus. Unlike other sales types, multiple people are assigned one account to nurture it over the long term.
Since these accounts are likely to make a purchase, the deals are often big and bring in a lot of revenue. But account-based sales is only apt for a business that has large enterprise accounts. Otherwise, it is not feasible to employ multiple personnel to just one account.
Online Sales
Online or e-commerce sales is used extensively by companies who only sell online. Unlike the other types, it does not involve interaction with a salesperson or anyone from the company for that matter.
The key to successfully leveraging this model is in the type of product or service that is being sold and the user interface that is being provided to the consumers when they come to visit a company's page. The company's page, website, or application has to be as informative as possible.
What is a sales concept?
The sales or the selling concept implies that consumers will not buy a product or a service unless motivated or persuaded to buy it.
The concept states that consumers have innate needs and it is a business' job to know and understand those needs and persuade the consumers to buy a product or service through promotional activities.
The selling concept emphasizes increasing sales and is based on the assumption that consumers will like and buy a product if you persuade them enough.
Times have changed now. Consumers can not easily be convinced into buying something and are generally aware of the available alternatives. So, selling becomes even more difficult. But adopting the right approach helps overcome the challenges that come along.
Types of Selling techniques a business should follow
Depending on the nature of the business, companies implement various types of selling techniques. The most prominent ones are:-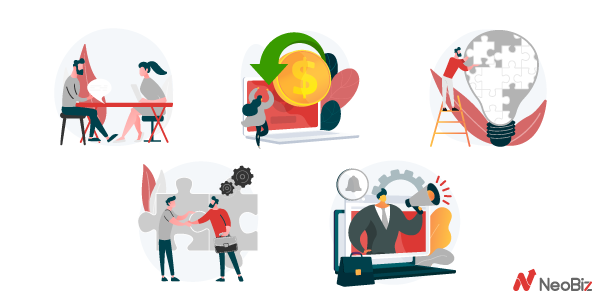 Consultative Selling
In contrast with traditional selling which focuses on highlighting the benefits of a product, consultative selling focuses on building personal relationships and then recommending a solution.
Simply put, consultative selling is about salespeople acting as advisors who provide a "solution" to a consumer's specific problem or requirement. It is more than just a transaction, this type of selling lays a huge emphasis on trust-building.
Transactional Selling
The sales approach here is generally impersonal, i.e., it focuses on making a quick transaction without laying much emphasis on knowing the actual needs of a consumer. Unlike consultative selling, it does not aim at forming long-term relationships with customers.
Transactional selling is a suitable approach for a business that is into selling generic products to an audience that usually prefers a quick transaction. If used in the right way, businesses can turn profits by selling in large quantities.
Solution Selling
Solution selling is a problem-led selling technique in which the sales representative highlights a particular problem to a consumer and determines how a product or service can solve it.
The goal here is to convince the prospect about how they can achieve the results they desire by solving the stated problem. For this approach to be successfully implemented, businesses should emphasize building a strong relationship with the customers.
Collaborative Selling
Collaborative selling shares similarities with consultative selling. Both these approaches are hyperfocused on building a long-lasting relationship with customers, but collaborative selling takes it even further.
Through this approach, businesses put their customer at the center of everything. It is not just a customer-buyer relationship, but an alliance that allows businesses and customers to collaborate and find the right solution to individual problems.
Provocative Selling
Provocative selling is all about enticing the customer to buy something by stating the opportunities that can be seized or the problems that may arise if they do not make a particular purchase.
This approach demands a lot of research be done at the business' end. If not done right, it would be difficult to pull it off. But if done right, it's one of the best approaches to get a prospect to buy your product or service.
Final Thoughts
Every business has its own set of audiences they want to reach out to and the approach they should adopt depends largely on the product or service they are selling. But what is valued most today is building genuine connections.
With a lot available to choose from, customers will not stick to a business unless they see themselves valued. The right approach then depends on the level of relationship you wish to maintain with your customers.

To stay updated on the latest sales and marketing trends, join our WhatsApp community by clicking here.